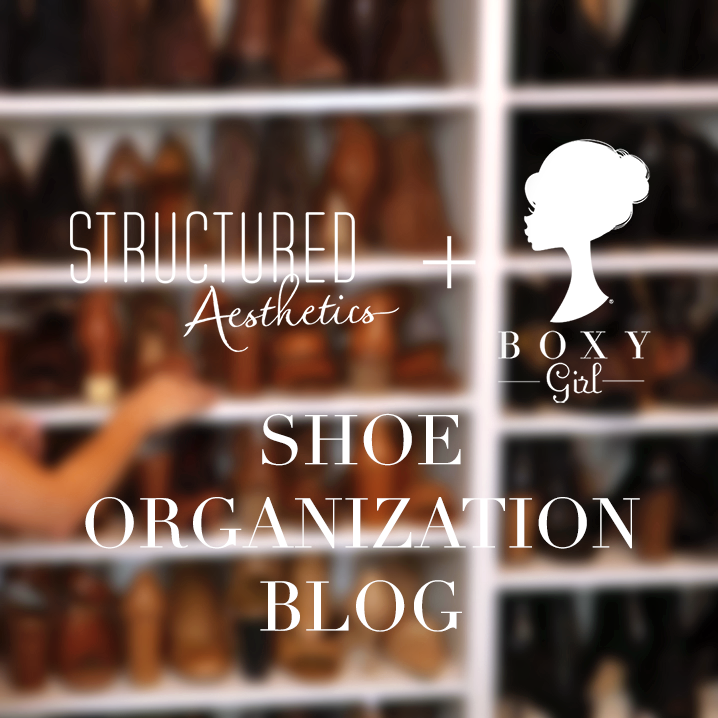 Have you seen the shoe collection of our Boxy Boss? It is TO DIE FOR!  Catch the latest Boxy Girl + Structured Aesthetics Vlog on the Boxy Girl YouTube Channel to sneak a peek! 
With a shoe collection this large and stunning, top-notch organization is a must.  We're sharing the latest trends to keep your shoes organized….and your closet looking stylish!
Sort your shoes by color and type | To start, sort your shoe collection by color. Within each color group, separate and order shoes by type.  For example, all of my brown pumps will go together, all of my black sandals will go together, and all of my vibrant hued boots will go together.  Storing shoes in this way will not only help you quickly identify the exact shoe you are looking for, it will also create a stunning display in your closet.
Maximize your space | Storing shoes with one toe facing in, and one toe facing out will maximize the space available for your shoe collection. In our Boxy Girl® + Structured Aesthetics "Shoe Organization" Vlog (available to view on the Boxy Girl® YouTube Channel), you can see that we DOUBLED the amount of shoes we were able to store by organizing in this way.
Choose your storage solutions wisely | Select shelving that allows you to adjust the height of each shelf. This will allow you to customize your shoe storage as your collection grows.  Create taller shelves for your boots and heels, and save space by creating shorter shelves for sandals and flats.