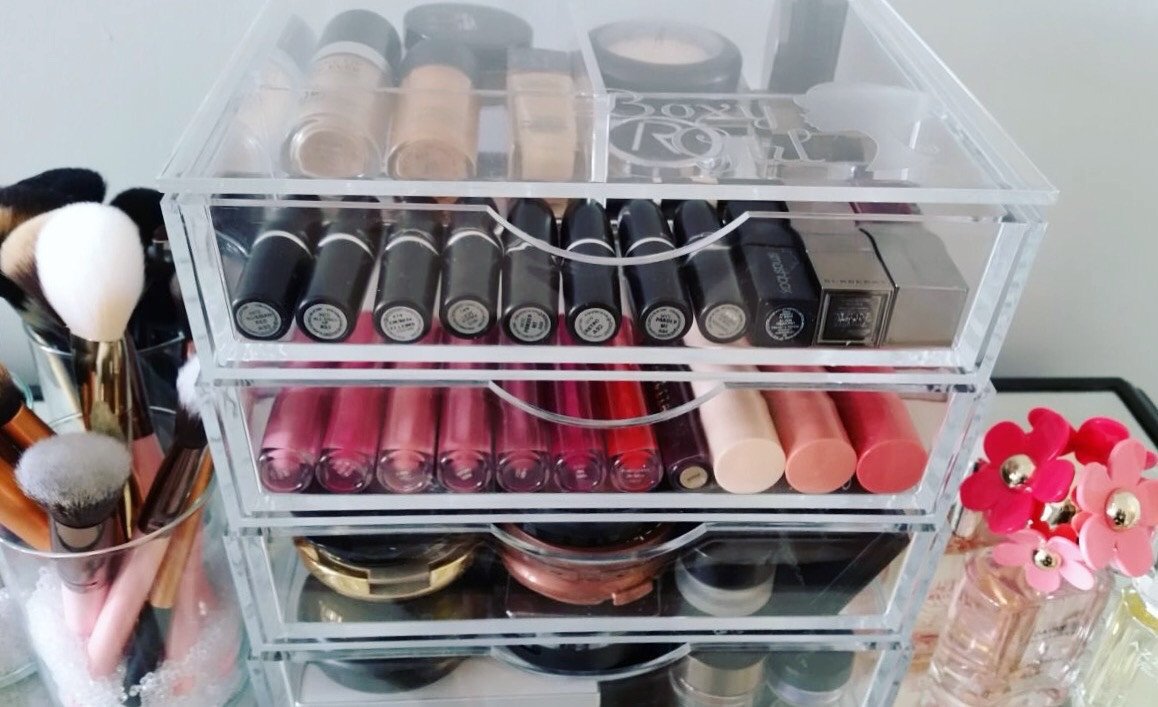 By: Aishwarya Singh
If you have an obsession for all things beauty, then you must have a organizing solution to store it all. I personally love acrylic and glass organizers. They are available in so many different designs, sizes and price points but the only problem I've always had is availability. I have never found a perfect, fairly large, durable organizer in store and have always been skeptical about ordering such a delicate product online. So if you're like me and want a gorgeous organizer for your vanity or space but want the full details, then keep reading about Boxy Girl Makeup Organizer!
When I received this box, I really hoped everything arrived safely and in tact without any damages. Which it did with an extensive amount of packing. The Boxy Girl 4-Drawer Stack with Lid organizer came double boxed,  with foam peanuts creating a cushion between the two boxes. The second box contained the actual organizer. With foam padding all around, each acrylic tray and it's associated box came wrapped in protective clear wrapping. If you were ever concerned about ordering your organizer online, know that Boxy Girl® has that covered.
The Boxy Girl With Lid, has 4-drawers stacked on one another, with a logo-engraved hinged lid. Which allows easy access to the top compartment. The organizer itself is a ten inch cube. Boxy Girl® claims what sets their acrylic organizer apart from others is that they are crafted from the highest quality Lucite® and created by injection mold production.
It definitely is high quality material, see below how crisp and clean the joints are.
Upon unwrapping and putting together the organizer, I really liked the sleek yet sturdy design. It instantly glams any space that it's kept in, even before it's filled. It took about 10 minutes for me to remove the clear wrapping and to stack them, only because I was being extra careful, otherwise everything is pre-built.
Boxy Girl® Organizer comes with 8 acrylic inserts (dividers) which can be added to the drawers to divide your different products.
I really loved how flexible this makes it, since you're not confined to a certain design and can customize your organizer based on the contents you'll be putting in it. If you're storing larger items, you can totally skip using the dividers in certain drawers.
The top drawer has a fixed lid and 3 open drawers. The drawers can hold full size palettes, sun glasses, lip liners practically anything you'd want to put in your acrylic organizer. The drawers open and close smoothly, without tugging or getting caught on something.It's the perfect size for a vanity, desk or counter.
Priced at $99, it is worth every dollar. Acrylic organizers 1/3 of Boxy Girl's size will run you $45+ at most home furnishing and department stores. If you've looked into most of the acrylic organizers seen on social media, those run for $200+.
You can take advantage of Boxy Girl® promotion and get the Boxy Girl with Lid for $99 and you'll love Boxy Girl just as much as I do!!
Check out Boxy Girl® acrylic organizers on www.boxygirl.com. As well as their beautiful shots on Instagram @BOXYGIRL for some organization inspiration.
Be sure to look out for my upcoming posts on how to organize your makeup and jewelry with your Boxy Girl Acrylic Makeup Organizer!!

If you decide on purchasing your own Boxy Girl Makeup Organizer, you can save more by using CODE: Aii10 to receive $10 OFF and free shipping off your Boxy Girl Organizer with Lid!!! Thr promo code is valid for this week only!  

Aishwarya