The Boxy Girl® Story
The
Boxy Girl®
brand launched in 2015 with only one product- the original 4-stack
Boxy Girl®
organizer. Women across the globe instantly fell in love with the irresistible new way to display their makeup, beauty products, and jewelry. With remarkable consumer engagement,
Boxy Girl®
has now sold thousands of beauty organizers throughout the United States.
Boxy Girl®
quickly grew into a leading beauty organization resource for the modern woman.
Many new exciting Boxy products are currently in development. Presently, Boxy Girl® offers eight organizer options and eight vanity collection stacks. All Boxy Girl® organizers are stackable, which allows women to creatively customize their vanities.
Through innovative design and uncompromising quality, the Boxy Girl® brand has garnered a loyal consumer base, vast celebrity following, momentous global recognition, and has redefined beauty organization for all women.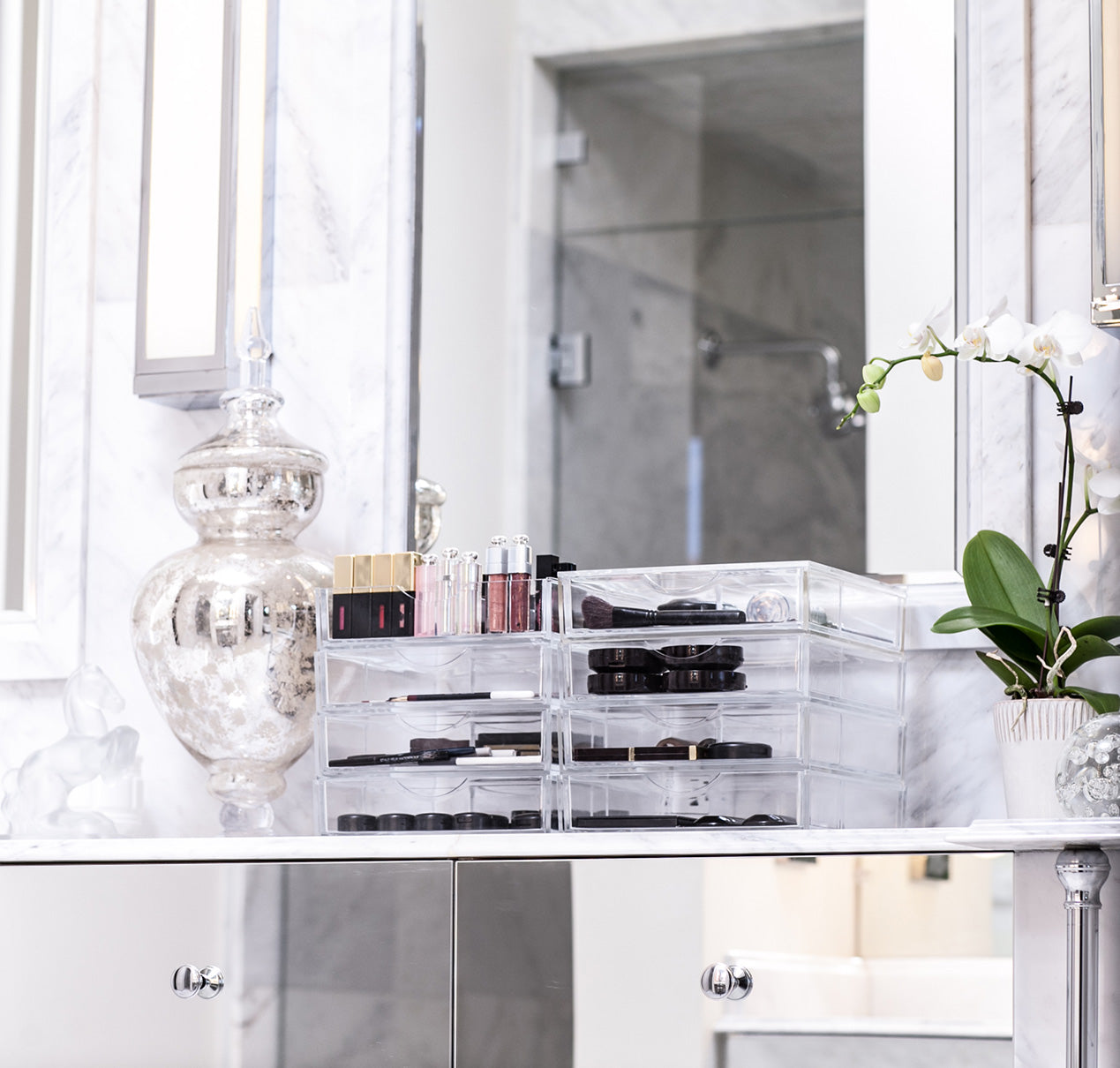 #THEBOXYBOSS
SEXY. AUTHENTIC. MODERN. ELEGANT.
Founder Hannah Serimian has poured her heart and soul into creating
Boxy Girl®
– the box and the brand. She is the original
Boxy Girl®
, confident and versatile, juggling life as a wife, mother and entrepreneur in an organized and ever-stylish way.
A Fresno native, Hannah grew up in an artistic family. Her Parents were in the fine furniture business and her grandparents sold and collected antiques from all over the country. As a result, Hannah developed a passion for Art Deco and Art Nouveau eras, which, combined, with her understanding of design and a natural eye for beauty, led to the creation of Boxy Girl®.
"I wanted something beautiful, functional and reliable. Before I created Boxy, all other clear organizers I tried would break or discolor." Hannah joined forces with her father, Dan, to engineer and create a high-quality, chic organizer that would be accessible to all women.
Boxy Girl® is made from top-of-the-line Lucite material and injection mold process. The box is strong, durable, stylish and versatile, with stackable nesting trays and add-on options to customize it to your personal needs.
Hannah's hard work and determination to create a beautiful, functional product has paid off. Get organized in a sleek and stylish way, and discover the Boxy Girl® in you.

Follow the #THEBOXYBOSS
The Patent and Intellectual Property
In December 2017, after a three year review and application process, the United States Patent and Trademark Office granted
Boxy Girl®
two Design Patents. One Design Patent for the Original 4-Stack
Boxy Girl®
Organizer without lid, and one for the single stack
Boxy Girl®
organizer without lid.
Holding two prestigious U.S. Design Patents differentiates these innovative and unique Boxy Girl® organizers from all other beauty organizers on the market. The integrity of the Boxy Girl® design embodies not only the artistic aesthetic that inventors Hannah Serimian and her father Dan Chapman envisioned, but also the revolutionary way to stack a Box(y)!
When Hannah began her Boxy Girl® journey, it was important that she had a strong idea for a product she knew consumers would love, while being mindful of creating a brand that consumers would want to engage with. Having a brand that is viable requires infrastructure. This includes the Intellectual Property associated with the brand; all the visual, creative identity, and elements associated with the brand, a very clear sense of what your mission is as a brand, and a very clear sense of who your target audience is as a brand. In creating Boxy Girl®, Hannah started by acquiring all of her Intellectual Property in 2012-- website domains, social media handles, trademarks, designs, patents, and copyright.

Powered by AZEXO Shopify page builder