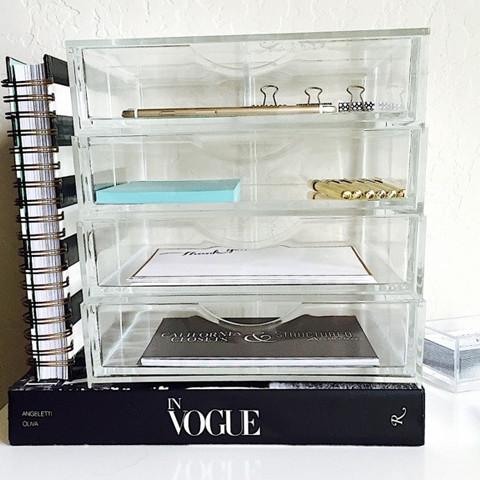 Organization, order, and a beautiful home are all things I hold in great esteem. All three of these components cultivate comfort, memories, and a welcoming space for those I love. As a professional organizer, I want nothing more than to create comfortable and welcoming spaces that my clients can create lasting memories in. One part of that is found in the function and order of a space (no one wants to live in a life full of clutter). The second part of my job is to highlight the beauty of a space. To create spaces such as these, I rely heavily on high quality, functional and gorgeous products.
high quality. Check.
When I first implemented Boxy Girl® into my OWN home, I was blown away. I had used similar organizers before, but this particular Lucite product was SO brilliantly clear. I honestly could not stop staring (…and still do every time I walk into the room).   It's like shopping for a diamond; the higher the clarity, the better the diamond.   The clearer the Lucite, the better the product….and Boxy Girl® is far and away the brightest and most clear Lucite organizer I have seen. The Boxy Girl® itself is also heavy and thick, making it certain there is no imitation in the material of this product.
functional. Check. Check.  
The function of the Boxy Girl® is unlike any acrylic organizer on the market. The fact that the product is stackable allows me to customize the product to the space. I can add stacks to fit a vertical space, or set side by side for a horizontal space. Each Boxy Girl® also comes with dividers, allowing me to customize each individual stack with compartments large enough or small enough for the items I am storing. As I began stacking each layer of the Boxy Girl®, my mind started spinning with ways I could implement this product in my client's homes.  
The Boxy Girl® is perfect as a makeup organizer for several reasons. 1) You can designate each drawer to hold a specific product: face, eyes, lips, and tools. 2) The option to have an open top with no lid allows you to store taller items upright (i.e. lipstick tubes, makeup brushes, and nail polish).
Boxy Girl® is also a fantastic jewelry organizer because I can see into the box and identify exactly what I am looking for. Choosing a Boxy Girl® with a lid is great for offering another layer of protection for your jewelry. You can also have fun organizing your jewelry with Boxy Girl®, separating by color or style.
I personally use Boxy Girl® as an office organizer. I am constantly trying out new organizational systems- especially at my desk. The acrylic box helps me remember what I have stored away, and what I still need to try out. I also love the dividers on each stack to store my smaller office items (paper clips, binder clips, etc.)
Honestly, Boxy Girl® can be used ANYWHERE. Living room, laundry room, kids room, closet, you name it!
GORGEOUS. Check. Check. Check.
There is no denying the beauty of this product. It makes every space more luxurious, enjoyable, and beautiful. I have found that Boxy Girl® sleek brilliance offers a subtle statement to each space, which can be incredibly refreshing.
My client's satisfaction is truly the most important thing to me, and it's not always easy to choose products for their homes. Boxy Girl® is a no brainer and exceeds all my expectations when selecting an organizing product- it's high quality, functional, and beautiful.  
All the best,
Melanie Lown
Structured Aesthetics Professional Organizing
-Written By: Melanie Smith-Lown from Structured Aesthetics