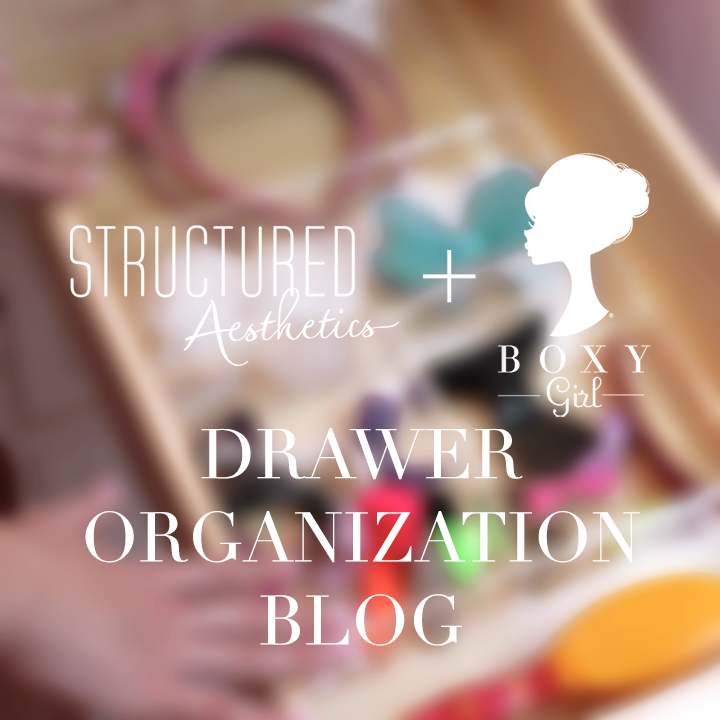 Have you ever walked into a gorgeous, thoughtfully designed home only to open a cabinet or drawer in horror! Organization is for not only for the spaces we see, but also for the spaces tucked away. Check out some of our fail proof tips to amp up your drawer organization game!
Take Inventory | As a professional organizer, I find that oftentimes the contents of a drawer become "clutter"… and after a drawer becomes "clutter", most of what is being stored is not being used. Take the time to sort through your drawers and take inventory of what is being stored. The best way to do this is to remove ALL the contents of the drawer, making piles of "like" categories as you go. Allow yourself to part with items you have multiples of, or items you no longer use. You can choose to either donate or discard these items as your sort. The goal is to create more space by removing things that are not being used.
Choose a Drawer Organizer | Choosing a drawer organizer can be tricky. Not only do you need to consider the width and depth of the drawer, don't be remiss in measuring the height either. Use the inventory you created to guide you on how many compartments, what size, and how many drawer organizers you will need. Consider the material you are choosing for your organizer- the higher the quality, the easier it will be able to maintain and clean. I LOVE LOVE LOVE the idea of removing the sliding drawers from Boxy Girl and implementing into my existing drawers. The shape and size of Boxy Girl® is perfect for almost any size drawer!! The high quality Lucite material looks stunning in the drawer, and makes it so easy to periodically clean. I also love the ability to create as many compartments as I need by implementing the dividers that come with Boxy Girl®. I can create two or three smaller compartments, or I can use the entire tray for larger pieces. Whatever organizer you choose to use, get creative with it, think outside the box, and don't be remiss in choosing a high quality product.  
A Game of Tetris | After you have sorted your items "like-with-like", removed what is no longer to be stored in your drawers, and selected your drawer organizer, it is time to start organizing the items. I like to think of this as a game of Tetris (you know…the puzzle-like video game where you have to quickly piece together all the shapes you're given). Start matching the size of your pieces with the size of your compartments available. If you have a customizable drawer organizer, like Boxy Girl®, you have more freedom to place items based on their size. If your organizer is not customizable, you will need to be more selective about where you place items. Start by placing the largest piece, and work your way down from there.
Enjoy your organized drawers!! And don't forget to follow Boxy Girl® and Structured Aesthetics on Social Media to stay current on the latest trends in beauty and organization. If you haven't seen our latest Vlog, head over to the Boxy Girl YouTube Channel NOW! Stay stylish!!