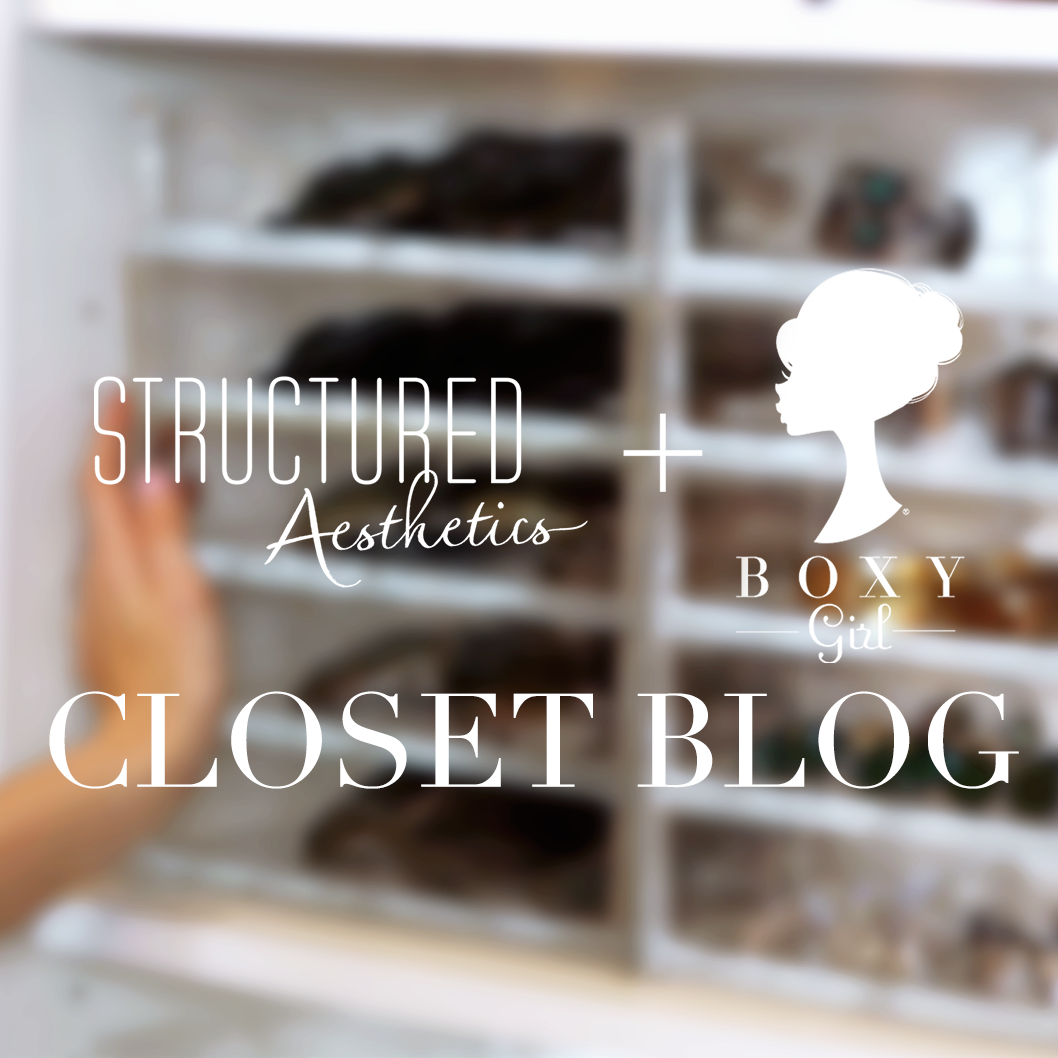 Your closet is perhaps the most important space to consider when creating your daily routine. An organized closet should be thoughtfully designed and meticulously cared for. Here are a few simple methods to help you achieve your dream closet:
Before you get started, stand in your closet and consider your daily routine. What is the first item you reach for in the morning? How about in the evening when getting ready for bed? What items do you rarely use throughout the day? The answers to these questions will help guide where items should be stored. Pieces you pull out daily should be stored in a space that is easily accessible. Less frequently used items can fill those hard to reach spaces; this might be a top shelf, or bottom drawer.
When storing your accessories, choose an organizer that helps you easily sort, store, and see items by category. We love using Boxy Girl® for this purpose! Each tray can house a different item and will allow you to create detailed subcategories. For example, separate and store your sunglasses by type; aviators, metal-rimmed, chunky plastics, etc.  This method easily translates to organizing and storing jewelry. Sort your necklaces, bracelets, and earrings into three separate categories. Create subcategories by separating your pieces by metal and/or color.  No matter if your jewelry collection is large or small, you can customize your Boxy Girl® by adding stacks either side-by-side or vertically.
Clothing should be separated by type, and arranged by color. For example, all dresses, blouses, skirts, and pants should be stored in their respective group. Within each group, clothing should be organized by color. We love how the Boxy Boss arranges her clothing! In the winter her clothing is arranged from darkest to lightest, and in the summer, clothing is arranged in the opposite order. This method will help keep items sorted by season, as well as slightly alter the aesthetic of your space for spring and winter.
Enjoy your organized and efficient closet! Be sure to follow Boxy Girl® and Structured Aesthetics on social media to keep up with the latest trends in beauty and organization!
AND….did you see our latest Vlog? Head over to the Boxy Girl YouTube Channel for our Boxy Girl® + Structured Aesthetics Vlog Series. And guess what?? There's more Boxy Girl® + SA goodness coming soon….