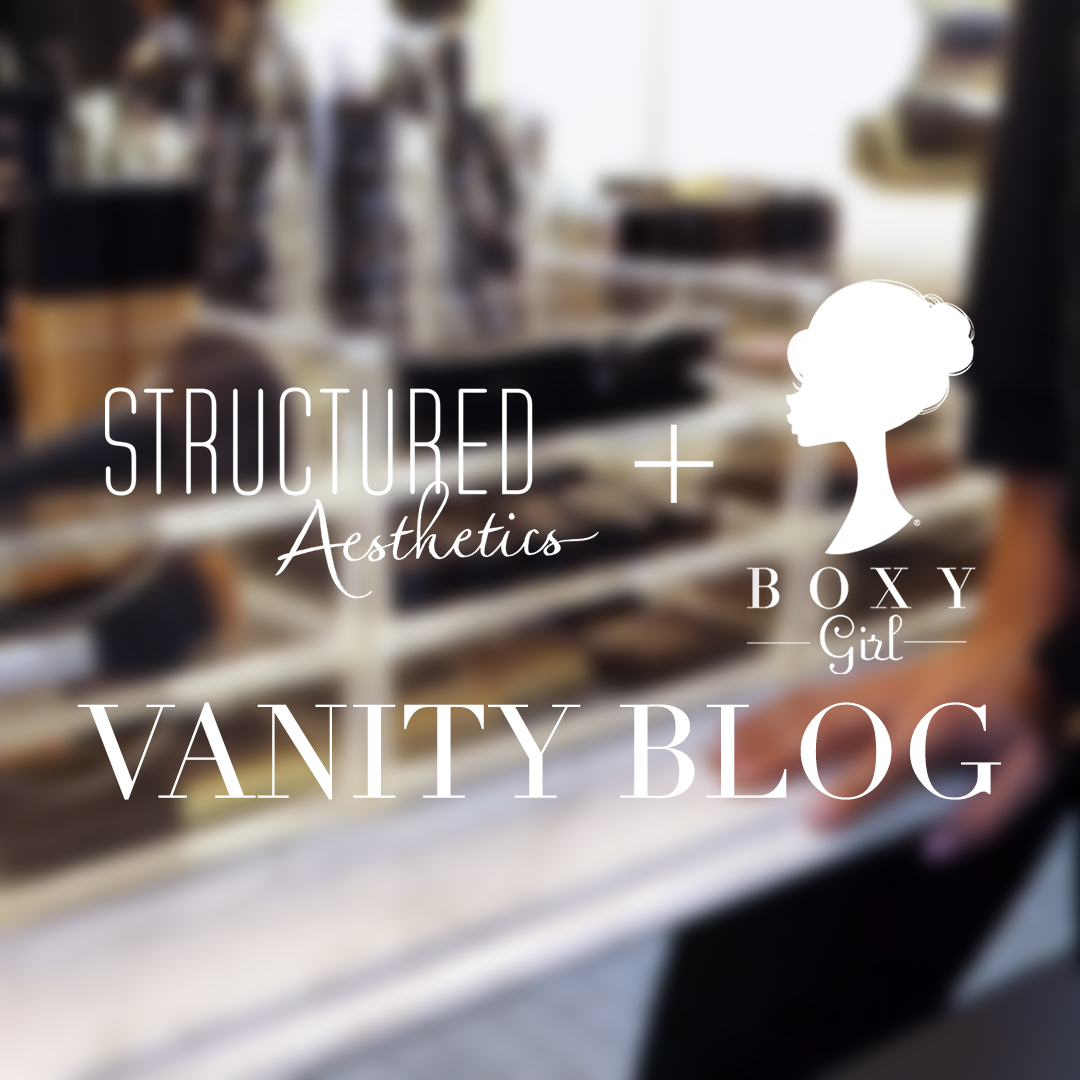 In Collaboration with Structured Aesthetics
Creating order in your daily routine is an awesome way to make you feel like a strong and independent woman….and adding in a serious dose of glamour makes it that much more FUNctional!
As a professional organizer, I truly believe those first few moments of your day can make or break your motivation to stay organized and productive for the next twelve or (…gulp) more hours! Here are my favorite methods in creating an organized and efficient beauty routine.
Choosing where to place your beauty products is subjective, however, there should be a method to the madness. I like to break down my beauty routine in order of application; face, eyes, and lips. I find that this provides more efficiency to my routine as I get ready. No matter how extensive or simple your beauty routine may be, Boxy Girl is my go-to beauty organizer because of it's versatility. I can easily create a place for each step in my morning routine by stacking as tall or wide as my space and beauty regimen calls for.
It's always important to analyze the objects you are organizing. In organizing your vanity, ask yourself; what products can be stacked, what needs to stand upright, what can lay flat? Boxy Girl® is great for this because there is a place for everything; my items that need to stand upright can be placed on the top stack, which is open and allows for taller items. My items to be laid flat can be categorized and placed in coordinating drawers.
Let's talk COLOR! I always organize my eyeshadow by color. I love using color to organize because it a) not only allows me to easily identify and select what I am looking for, b) it creates a beautiful palette in my space. This method is functional and aesthetically pleasing. CHECK AND CHECK!
When organizing color think of the rainbow; ROYGBIV with whites and pinks attaching to the front, and brown and black attaching to the end. Colors should be:
white, pink, red, orange, yellow, green, blue, indigo, violet, brown, black
Finally, let's talk make-up tools! This can be the most challenging part in organizing your make-up because of the odd shapes and sizes. For taller tools, I can stand up in a beautiful cup or jar. I love repurposing gorgeous candle jars and glasses to store my make-up tools. Talk about a unique way to create a story in your space and set a more romantic tone! If you prefer to lay your tools flat; Boxy Girl® dividers are awesome for this purpose. I can create custom spaces, using two or three compartments. The front divider is perfect for longer brushes and tools, and the back two compartments easily store my more compact tools.
I hope these tips help you create an efficient and simple beauty routine. Be sure to follow Boxy Girl® and Structured Aesthetics on social media to keep up with the latest trends in beauty and organization!
BEFORE YOU GO….did you see our latest Vlog? Head over to YOUTUBE CHANNEL for our Boxy Girl® + Structured Aesthetics Vlog Series. And guess what?? There's more Boxy Girl® + SA yumminess coming soon….