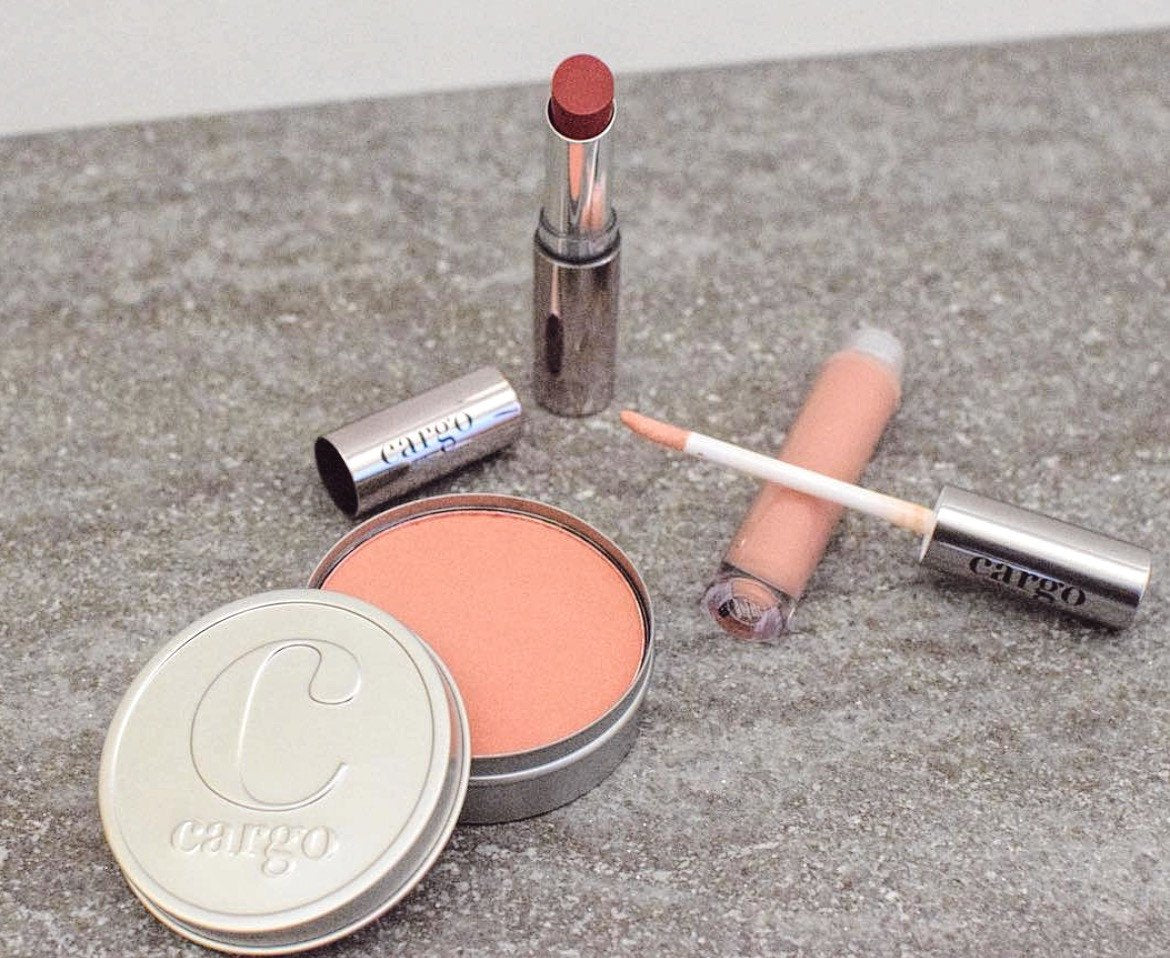 By: Rema Koligian
What woman doesn't love to discover a great new beauty product? Or in this case, three.  However, it is sometimes intimating to switch up our tried and true favorites for fear that something new won't be as good.  I know I'm not alone when it comes to finding a product that I like and sticking with it. Sometimes, to a fault.  That is until I see a picture and realize I need to update my look because a stagnant beauty routine dates us all.
With changing seasons comes the need for new and different shades of makeup.  So, I've tested, played with and used some great products from Cargo Cosmetics and I'm here to share my thoughts with you.  I recently tried the Cargo Essential Lip Color, the Cargo Essential Lip Gloss and the Cargo Swimmables Water Resistant Blush.
This Cargo Essential Lip Color in Paris is a great vibrant red.  When I first opened the lipstick it initially appeared to be more of a burgundy color but, it goes on as a true red with more purple undertones rather than orange.  This color typically flatters more skin tones.  The consistency is buttery.  The color slides on easily and is buildable.  It is not a stain, so reapplication is necessary after meals and drinks but I didn't experience any bleeding of the color.  Cargo carries 12 different shades and each one is prettier than the next.
I have been loving the Cargo Essential Lip Gloss in color Tuscany. Tuscany is a pinky nude and one of 15 different shades available.  The gloss appears to have a hint of shimmer but I didn't detect shimmer once on.  The consistency of the gloss is exactly what I look for, not too sticky, not to thick.  It is moisturizing on the lips and is long wearing.  Even after eating I didn't feel the need to reapply.
One of my favorite new products is the Cargo Swimmables Water Resistant Blush in Los Cabos. This is a warm peach color.  Perfect for fall and all the warmer tones I'll be wearing.  It also comes in two other pink shades that are equally as gorgeous.  It contains a water resistant formula which I was perplexed by initially. However, its blends just as effortlessly as the original blush formula and with it still being 90 plus degrees, the water resistant formula comes in handy.  The blush doesn't fade or smudge with sweat.  It looks just as good at 9 pm as it did at 9am when I put it on.
The price point for Cargo Cosmetics is very reasonable with most items ranging from $16-$34. Cargo Cosmetics packaging is simple yet sleek. A very Parisian vibe on the outside and modern metals on the actual products.  I truly appreciate the lid to the blush being completely detachable since I so often break a hinged top making it impossible to ever close again.
Looking to update your beauty counter? There are some really exciting things coming to Boxy Girl®, including an amazing collaboration with Cargo Cosmetics.  Boxy Girl® will soon be offering a free Cargo Cosmetics gift with purchase! Who doesn't need new makeup to keep beautiful organized in a Boxy Girl®? Stay tuned for all the details coming soon.
** Rema has a fashion, beauty and lifestyle blog, Jewelry & Jeans, where she shares all of her stylish looks and beauty tips, plus provides a glimpse into her life as a mom to two little boys. Be sure to catch up with her latest looks on www.jewelrynjeans.com and on Instagram @jewelryandjeans.