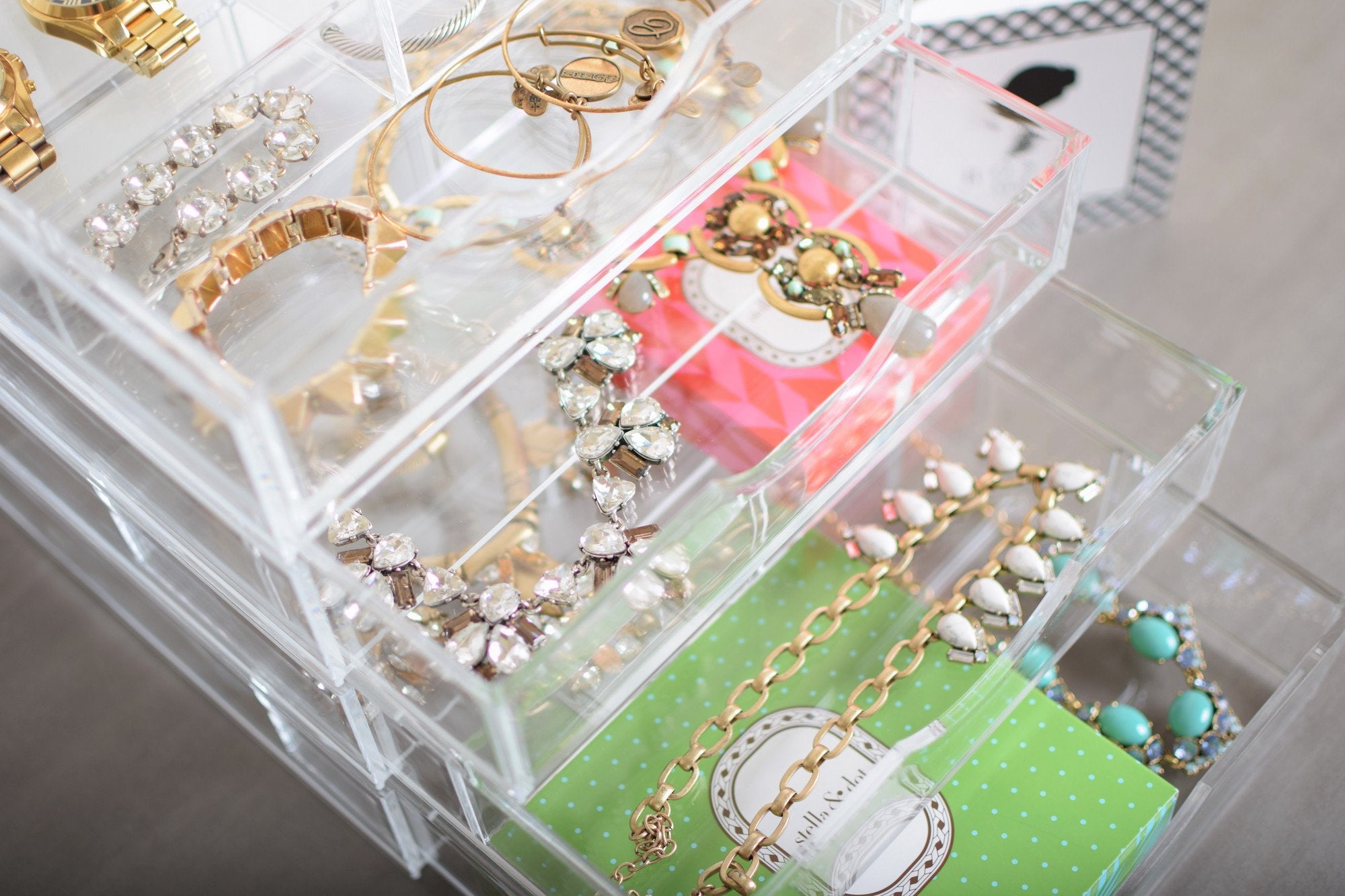 By: Rema Koligian
I am a girl who loves options.  I also love flexibility since I tend to change my mind often.  So, when I first got my hands on my Boxy Girl® I was like a kid in a candy shop.  It came with four stackable trays in total, including one with a lid.  It struck me as incredibly beautiful and surprisingly heavy.  Every inch of the Boxy Girl® came packed with care and a protective film to ensure not a scratch upon it.  It has thickly constructed walls, perfect seams and a glass like texture. 
I had to ask myself, how did I want to set up my Boxy? Single stack, multiple stacks, side by side, with inserts, without.  I just didn't know.  I easy spent over an hour playing with every option and thinking about what I wanted to organize so I could best determine what to do.
My first thought was to put in all of my makeup.  Brushes, palettes, lipsticks, you name it but, I already have those items neatly organized.  However, I will admit the Boxy would have made them much prettier to look at.  Most people may think that a vanity organizer is limited to organizing only makeup, but that is simply not true.  You can organize nail polishes, skin care, hair products, whatever you can dream up.  I decided it was due time for me to organize my jewelry.  I have plenty of it and wear it daily so why not arrange it in a pretty manner. 
I opted to stack all four of my trays together. Each tray is stackable rather than one fixed unit. If I later decide I want to use one tray on my armoire or one in my bathroom, I can do so without having to remove everything.  Boxy Girl® is made up of Lucite acrylic, not plastic like so many others.  This prevents clouding and bubbling that so often occurs and makes the organizer incredibly durable.  It won't crack or chip like many of the others on the market.  Doing a stack of all four trays took up less counter space and since the Boxy is crystal clear I was still able to see all of my items effortlessly.  
Boxy Girl® comes with two dividers for each tray which you can individually customize. The dividers can be used singularly or together making two compartments or three.  I used both dividers on the top tray and decided it would be perfect for my watches and bracelets that I wear most often. Sorting my gold and silver pieces.  The top has a lid, making it quick and easy to grab my most frequently used pieces.  I opted not to include the dividers in the majority of my other trays since I used them for my larger statement necklaces and jewelry cleaning supplies.
Boxy Girl® makes it much easier for me to see what I have and choose what I want to wear.  I love how organized and beautiful all of my jewelry is now.  Plus, I love how Boxy Girl® keeps my jewelry clean and free from dust.  How do you Boxy?