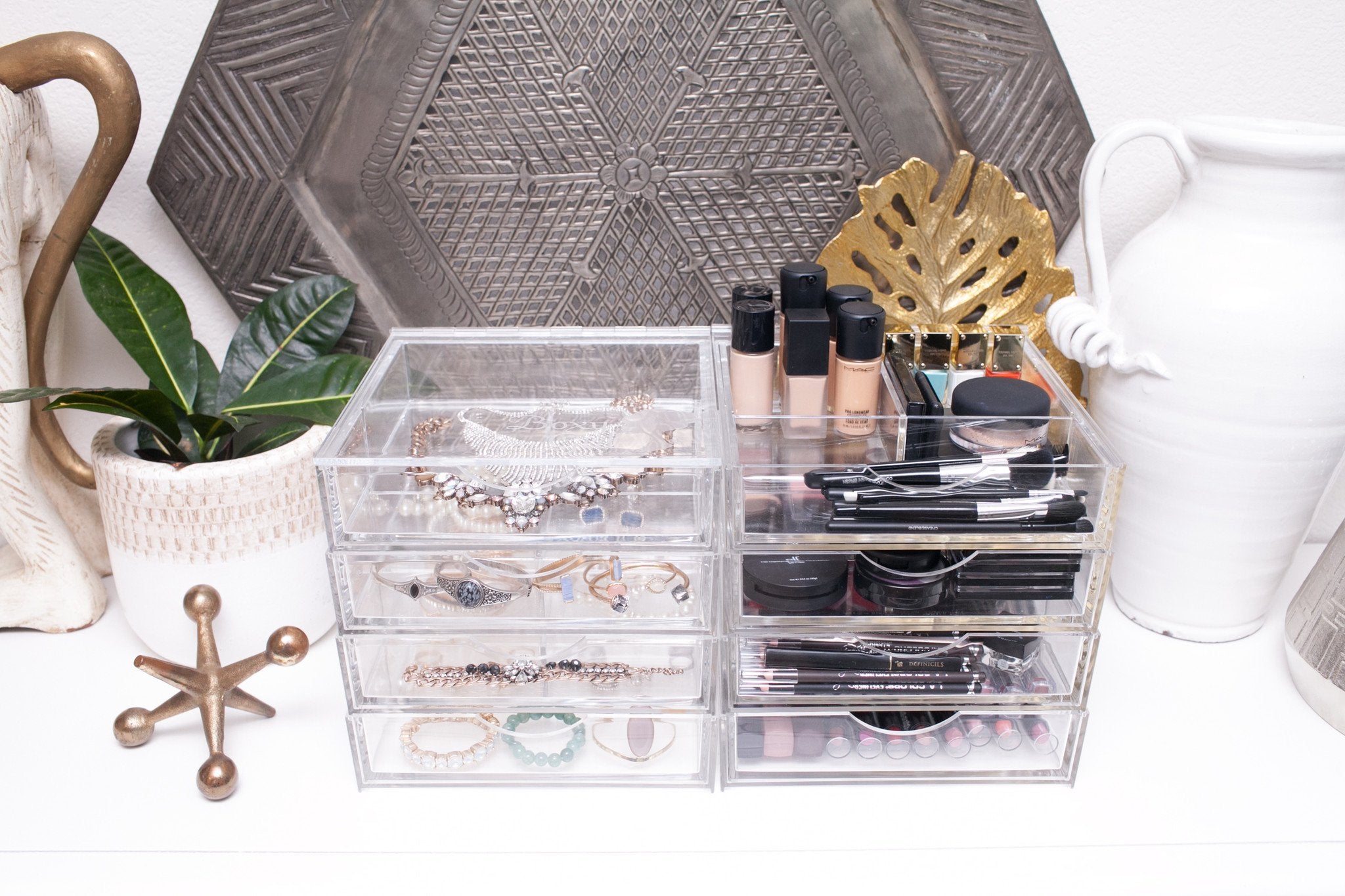 By: Silva Emerian
 On the first day of Christmas, my true love gave to me… A Boxy wrapped under the tree.

No matter who your true love is, they can use a Boxy. Female, male, young or old, there's a Boxy for everyone!
Why Boxy? Because Boxy is the best, highest quality organizer on the market. Its 13 pounds of Lucite® acrylic is well-crafted and built to last. With four stackable drawers and a removable lid, it offers variety and options to meet every need. And, simply put, it's beautiful.
So without further ado, with a nod to the 12 Days of Christmas, here are the 12 Ways of Boxy:
Makeup ~ Boxy is a chic, practical way to organize and display your makeup. The drawers are divided to keep your eyeliners, eyeshadows and mascaras separated and easy to find. Remove the lid to stand your lipsticks upright and fit more in. Everything is easily seen and at your fingertips to make getting ready luxurious and fun!
Makeup Accessories ~ Are your makeup brushes, sponges and eyelash curlers getting mixed up? Are they lost in a drawer or hidden in a bag under your counter? Use a couple of your Boxy drawers to present these accessories neatly. Don't waste money buying new items because you can't find what you need!
Office Supplies ~ Don't let your desk stress you out! Make working fun by setting up a Boxy on your desk. Fill the drawers with Post its, paperclips, pens and pencils, business cards and everything you need to work efficiently at the office or at home. Seeing your desktop organized will soothe your mind and help you work with a smile.
Jewelry ~ Do you have time in your morning rush to untangle necklaces from bracelets or look for matching earrings? Me neither. Your prettiest jewels should be kept in the prettiest way, and there's nothing prettier than a Boxy. Let the light shine through that Lucite without any peels or cracks or ugly glue getting in the way. Use the dividers to keep rings separate from earrings, or remove the dividers for bigger necklaces.
Hair Bows ~ Teach your daughter to organize her hair supplies and never look for a hair bow again! Your Boxy-girl-in-training can separate her bows by color or size, and use a separate drawer for elastics or barrettes. Keep all of these, plus combs and brushes, in her Boxy and make hair time a breeze by having everything you need in one organizer.
Legos and Cars ~ Don't think Boxy is only for the girls! Boys can be just as neat. Remember, Boxy is made with 13 pounds of the best Lucite® acrylic to stay sturdy and strong! Keep Legos organized (and off the floor)! You can also use Boxy for toy cars, plastic soldiers, trading cards, or whatever else usually ends up in a big jumbled mess. Welcome to a neat playroom, thanks to Boxy!
Candy ~ Do you have a sweet tooth? Keep a Boxy on your kitchen counter and fill it with your favorites. You'll be able to see all the pretty, colorful candies you can fit in the drawers, which can easily be wiped down to remain spotless. After a long day, indulge in a sweet treat!
Crafts ~ If you love to craft and are always surfing Pinterest for new ideas, make sure you stay stocked by keeping your crafting supplies in a Boxy! It comes with four drawers but you can always add more to keep everything you need at the ready – scissors, glue, string, beads, stencils and more. Adjust drawers to store different sizes of paper by adding or removing dividers. Crafters love to make beautiful things, and Boxy can store all of your materials neatly so you can see exactly what you have on hand and what you might still need.
Sewing ~ Are you a designer? Do you like to make clothes? Or do you take care of your family's needs by mending holes and reattaching buttons? Whatever your sewing needs, keep Boxy by your work area to hold your thread, needles, buttons, zippers, thimbles and pins in one place.
Art ~ Coloring books for adults are all the rage these days! Whether for you or your kids, use Boxy to keep your art items tidy and arranged. You'll be able to see your crayons, markers, colored pencils, Popsicle sticks, pipe cleaners, pompoms and glitter organized beautifully in Boxy's acrylic drawers – easy to reach and a work of art in itself!
Tools ~ Boxy looks great in every room and makes every room look great – even the garage. Surprise the man in your life with a Boxy to keep his tools organized. What better way to keep nails, nuts, bolts, screws and hand tools from spreading all over the garage floor? Boxy HIM today!
Scrapbooking ~ I never get tired of looking at pictures, and scrapbooks are creative and original ways to display family keepsakes. Keep a Boxy (or two!) in your scrapbooking area and fill it with the supplies you need to decorate your pages. Stacking Boxy vertically will give you even more room to spread out your pages without having materials crowd your table space. Fill Boxy with markers, trimmers, stickers, borders, cardstock, adhesives, photo corners and more. Everything you need in one beautiful organizer!
There are many more uses for Boxy, but one thing is sure… If you want to surprise a loved one this holiday season with an elegant, practical, thoughtful and chic gift, visit www.boxy.com and stock up! Because there is a Boxy for EVERYONE!
11.2015