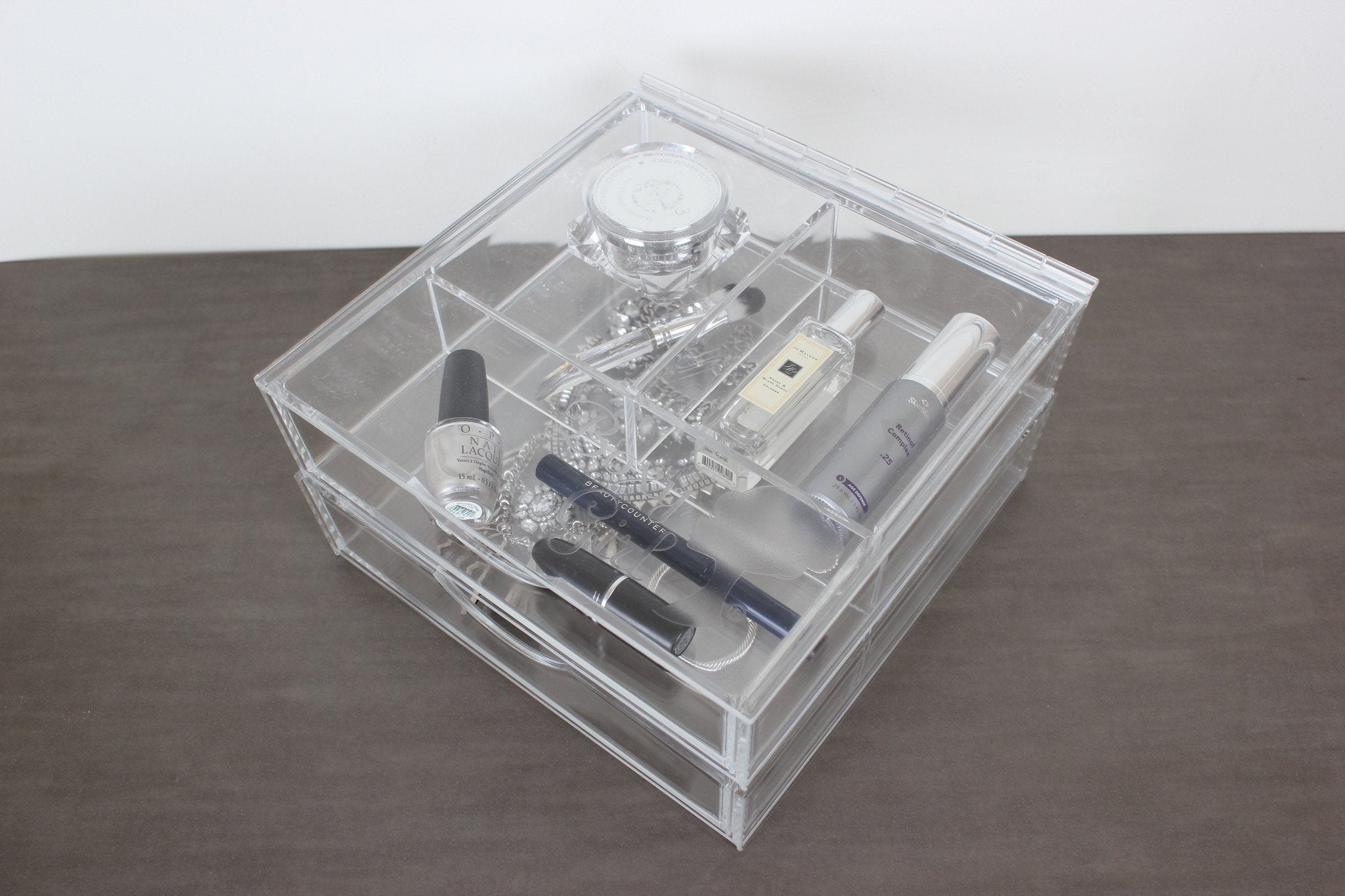 Written by ANNIE FOREMAN
Do you have a glamorous woman in your life that is impossible to buy for?  Holiday shopping isn't my problem; coming up with the gift ideas is the real challenge for me.  I try to come up with special gifts that the recipient would really get excited about.  I've done all the hard work for you and come up with the perfect gift.  This is an idea for the glamorous or special woman in your life.  There's not too many ladies who wouldn't swoon over this gift.
This is a complete gift for the lucky lady including stocking stuffers.  The Boxy Girl® Lucite Acrylic and stackable beauty box is the ultimate gift.  It can be used for makeup, jewelry, nail polish, fragrances, or anything you want to organize in a beautiful display.
To take your gift over the top I have some ideas of what to fill it with for your favorite lady.
Exquisite Earth Elements Mask - Natural Deep Cleaning Mask with Glacial Oceanic Clay.  Absorbs oil, exfoliates, unclogs pores, removes blackheads, hydrates, balances oil secretion, and evens skin tone.  Click link and use code ANNIEF10 to receive 10% off.
OPI Nail Lacquer - One of my favorite holiday colors is a shimmery silver.
Beauty Counter Lengthening Mascara - It's hard to find the perfect mascara but I'm loving this one from Beauty Counter.  It's safer, cleaner and it conditions while you wear it.  It also performs- it doesn't clump and it lengthens lashes.
MAC Matte Lipstick - For the holidays you typically think a bold red lip but I'm suggesting a hot pink instead.  My favorite bold pink is Pink Pigeon from MAC.
Skin Medica Retinol Complex - Any woman over the age of 30 (if not sooner) is wanting to freeze her skin in time, perhaps reverse it, so a Retinol cream is essential.  I've tried a few brands and this one is my favorite.  For first time users you probably want to start with a .25 complex.  Consult with a dermatologist to be sure.
Jo Malone Peony & Blush Suede Cologne - This is my FAVORITE scent all year round even though it's a floral.  My husband hates perfume but loves this scent on me so that basically says it all.  One of my favorite things about Jo Malone fragrances is how you can layer them.
Statement Necklace - I've loved a statement necklace for several years but I'm currently obsessing with extra large monotone statement necklaces.  You can take a basic tee and elevate it with a statement necklace.
David Yurman Cable Classics Cuff - This is a classic piece of jewelry that will last a lifetime.  I love stacking mine with several pieces of jewelry.
Stackable Rings - My stackable rings are from Brighton and I love just the simplicity of them.

All of these items fit perfectly inside the Boxy Girl® and make for a beautiful display.  Now you don't have to worry about what to get your favorite lady and even better you don't have to run around town to do all the shopping.  Everything can be shipped to your door step.  Happy Shopping and Merry Christmas.  Wishing you all the joy of the season.
Be social and come say hello: