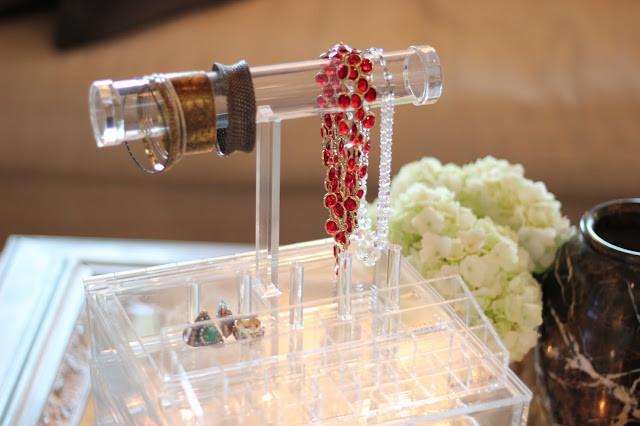 AUTHOR: ANNIE FOREMAN
I'm revealing my secret weapon in staying glam and keeping organized. Being organized is in my DNA; I get a sense of relief when I get something clean and tidy. My beauty items like makeup, skin care, and nail polish were spread between my medicine cabinet and two drawers in my bathroom.  I was never happy with how they were spread out.  I was thrilled to try out Boxy Girl® to display and organize all of these items.  I was shocked at how much the four stackable drawers held and I even have a bit of room to spare (shopping opportunity!).  Not only does the Boxy Girl® have a large capacity but it's also extremely versatile.  Each drawer is stackable but not permanently connected so you can lay them side by side of divide them however you see fit.  I may even try separating them and using the drawers for other uses like jewelry and children's accessories. 

I think the lid on top is a nice extra touch; the items inside stay clean and it just adds a bit of luxury.
I was also impressed with the quality of
Boxy Girl®
.  It's like a piece of furniture for your vanity.  It's crystal clear and durable because it's made in an injectable mold with Lucite® Acrylic.  The
Boxy Girl®
is extremely sturdy; I was surprised by the weight of the box. Other vanity organizers are made of cheap plastic, are foggy, glued together, bulky and just too expensive.
My Boxy Girl® keeps all my beauty items within reach all in one beautiful spot. I love when I'm getting ready that I'm not digging through cabinets and drawers looking for what I need.  My day to day makeup routine is featured here and in real time was just under 5 minutes; being organized helps keep the routine quick and easy.
I also had the pleasure of viewing the latest products from
Boxy Girl®
this week and they are now live on the
site
.  I am so in love with the new options for your
Boxy Girl®
.  Hannah and her team have spent over a year developing the highest quality items that take your
Boxy Girl®
to another level.  The newest items expand the
Boxy Girl®
making organizing your vanity a beautiful piece of art.  The new items fit in or on top of the Boxy and organize your jewelry and makeup in a more stylish and efficient way.
So now you know my secret to staying glam; by being organized with
Boxy Girl®
!!!
Boxy Girl® received in exchange for this post.  As always all opinions expressed are honest and my own.